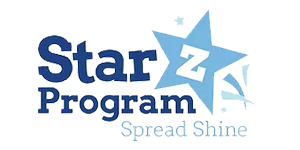 OUR POLICIES
Please read our policies and complete the online enrollment form to reserve your child's spot in one of our classes!
​
ONE FREE CLASS
Each child is entitled to one free trial class. If you would like your child to try a class for free, inform your child's school and they will tell our staff. Please note: Our instructors track when a child receives a free class. Students are not officially enrolled until an online or paper enrollment form ​is received and $35.00 enrollment fee is collected.
​
***Please Note that our online registration system is designed for a 9 month enrollment period. If you are enrolling later in the year, please proceed with the enrollment process and our accounting team will pro-rate your first tuition draft to reflect the amount of classes left in the billing cycle. You can email Admin@starzprogram.com at any time with questions.
ENROLLMENT FEE
A $35.00 enrollment fee is due with every enrollment form. This fee is incorporated into the deposit amount which is required online. If you are submitting a paper enrollment form please include a $35.00 check payable to Starz Program for this fee. This fee is non-refundable.
TUITION
$60.00 Monthly - NOTE: Tuition may be higher in some areas/schools; you are welcome to email Admin@starzprogram.com with your school name and city for confirmation of tuition rates.
If you would like your child to participate in two activities per week (ex. Dance and Sports) or if you are enrolling siblings, tuition is discounted to $90.00 monthly. Participation in three activities is discounted to $135.00 monthly (again although still discounted some school rates may be slightly higher).
There are no discounts, prorating or waived tuition for missed classes
Refunds will not be given on tuition.
In the event of a school closing due to holidays or otherwise, we will do our best to offer a make-up class however a makeup is not guaranteed and monthly tuition remains the same regardless.
INSUFFICIENT FUNDS FEE
Should your automatic withdrawal be declined a $20.00 fee will be assessed. There will also be a returned check fee of $35.00.
LATE PICK UP FEE
In the event your child's school is closed after Starz class (mostly half day schools) and you are late picking up your child from us a two dollar per minute late fee will go into effect after a grace period of five minutes. Our instructors need to leave class promptly to get to other scheduled classes.
LATE PAYMENT FEE
Should you not pay your tuition the date it is due, there will be a $25.00 late fee.
DISCONTINUATION OF CLASSES
There is no contract for our services. However, we do require two weeks' written notice for discontinuation of classes.
OTHER FEES: DANCE Recital (opt out available)
This fee will be divided into two installments and will include the student's costume(s), tights, trophy, program, and the recital venue.
OTHER FEES: SPORTS/CHEER (opt out available)
There is a small fee for sports/cheer students that will include the Annual Family Fun Field Day.
Refreshments, trophy, t-shirt, and facility rental are included in this fee.
DRAFT DATE
Account will be drafted upon enrollment and subsequently on the 1st of each month. Tuition drafted on the 1st will be applied toward that current month's tuition. For example, October 1st draft will be for the month of October's tuition.
PARTICIPATION RELEASE FORM
I acknowledge and understand that any activity that requires motion could cause accidental injury. I also understand that risks may be significantly limited with safety equipment and trained instructors, but are never eliminated from recreational activities. I agree to release any and all claims against and agree to hold harmless Sophia Z. Wastler, The Starz Program ™, Franchise Owners, Area Coordinators, Instructors thereof and all schools that we service concerning accidents that may occur while participating in class or receiving instruction.
​
COVID 19 RELEASE
I understand at this time COVID-19 is an ongoing pandemic and health threat. I assume full liability and agree to hold harmless the Starz Program, its teachers, owners and school partners in the event someone in my family becomes ill or has exposure from participation in our program.
​
MAKE UP CLASSES
Make-up classes due to holidays, school field trips, school closings, and absenteeism are not guaranteed. Starz Tuition is a set amount monthly regardless of the number of classes in the month.
PHOTOGRAPHY/VIDEOTAPING CONSENT
I give my child permission to be photographed (without compensation) while participating in The Starz Program ™ activities. The Starz Program ™ may use these photographs and/or videotapes for promotional and advertising purposes as authorized by The Starz Program™.
AUTOMATED AUTHORIZATION AGREEMENT
I hereby authorize The Starz Program™ to initiate withdrawals of tuition payments from my account in which I provide.
Further, I agree not to hold The Starz program™ responsible for any delay or loss of funds due to incorrect or incomplete information supplied by me or my financial institution or due to an error on the part of my financial institution in managing funds to my account.
This agreement will remain in effect until The Starz Program™ receives a two week written notice of cancellation from me or my financial institution or until the end of the school year.